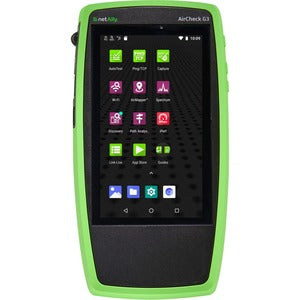 netAlly AirCheck™ G3
Regular price
Sale price
$3,895.00
---
AirCheck G3 Wi-Fi Network Tester
The Most Cost-effective Hardware-based Wi-Fi Survey, Troubleshooting, and Validation Solution!
The AirCheck G3 Wi-Fi Analyzer's intuitive user interface provides actionable intelligence, speeding and simplifying wireless deployment, troubleshooting and validation. AirCheck G3 provides network professionals of any skill level with complete and accurate information to survey and validate Wi-Fi deployments and changes, resolve connectivity and performance problems quickly, speed up closure of trouble tickets, and ensure your Wi-Fi network meets end users' needs.
Test, verify, and troubleshoot technology upgrades, Wi-Fi 6/6E and Bluetooth/ BLE networks with advanced testing apps and purpose-built hardware
Validate Wi-Fi 6/6E network performance for critical services and key end devices
Quickly find the physical location of Wi-Fi access points and clients on the 2.4GHz, 5GHz, and 6GHz bands
See all networks and devices in your location immediately upon power up
Supports 2.4GHz and 5GHz spectrum analysis with the optional NXT-1000 Portable Spectrum Analyzer adapter
Faster and easier Wi-Fi and Bluetooth/BLE site surveys with AirMapper Site Survey
Enables remote engineers to troubleshoot and collaborate with on-site technicians to solve tough problems at remote sites, saving time and cost of travel
Seamlessly consolidate, analyze, and manage field test data, and integrate with network management systems via Link-Live collaboration, reporting, and analysis platform
AutoTest
AirCheck G3 performs the following five essential Wi-Fi tests and provides a pass/fail indication of the wireless environment, as well as identifies common problems — for any level of expertise:
• 802.11 Utilization – Reports channels in each band (2.4 GHz and 5 GHz) with
the highest airtime utilization.
• Non-802.11 Utilization – Reports channels with the highest non-802.11 airtime utilization, indicative of interference sources and high noise levels.
• Co-Channel Interference - Reports channels with the most APs on the same channel that exceed the minimum signal level threshold.
• Adjacent Channel Interference - Reports interference on a channel caused by APs that are operating on other channels that overlap with that channel.
• Network Quality – Verifies coverage, interference, security and ability to connect to specified networks, along with the availability of critical network services such as DHCP and connectivity to specified network targets.
• Rogue Access Points - Reports APs other than your authorized devices. These devices may be compromising network security.